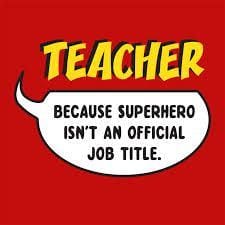 Gearing up for a new school year is exciting.  School parking lots begin to fill as teachers, both experienced and green, slowly file in to check out their classrooms for the approaching year.  It's a season of hope and excitement.  The opportunity to really make a difference in the lives of the students in their care resonates in the minds of teachers.  The worries and stresses that were encountered in the last school year have faded and the reason that we got into this field comes to mind.  We are all starting with a blank slate – loads of great ideas are ready to be launched.
If you are at all like me, many of you are in your classrooms, looking at creative new ways to welcome this new group, listening to music and visiting with colleagues about their summer adventures.  It's a time for dreams.  As you prepare your rooms and minds for the onslaught of all that is new, I'd like to remind you of a little something. There are a few souls wandering into your classroom who likely had a horrible summer.  Those fragile souls whose home lives are not filled with picnics, holidays or biking the neighborhood..  Children whose home lives are more damaging than good and because of that, have little anchoring in the goodness of the world.  These are the little ones that you need to be most aware of, the most vulnerable.
We're fortunate to be Canadians in many ways but one of the things that makes me most proud is that we try to protect the most vulnerable in society.  We provide unemployment and welfare for those who are down on their luck, we provide free health care for those who are sick, rich or poor. We provide equitable world class education, publicly funded.  Within that quality educational structure are super heroes, teachers and support staff who are attuned to those who need that little special tenderness to feel a part of the wider community.  The knowledge that someone is looking out for you and connects  with you is pivotal in giving a child hope that they can contribute in society – that they are worthy.
So yes, there is curriculum that needs to be attended to.  Yes, there are new teacher quality standards being put in place that you need to be aware of.  Yes, rigor and academics matter a great deal in moving our society forward.  No one is debating any of this.  Let's start with relationship though.  Let's start with knowing and loving those in our care, especially the most vulnerable, who are often the most difficult also.  If we start there, the rest flows more easily.
Have a wonderful start  up, superheroes.  You matter!
Dave