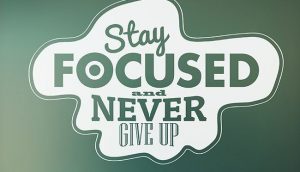 Schools are wonderful places to get energized!  There is always something exciting going on.  Whether you enjoy the rush of a basketball game, the laughter of a group of young girls, or the subtle whispers of the library, there is room for finding your people.  Amid this cacophony of distraction, anyone can get off track and lose focus.  So, how as a school leader does one maintain focus?  How does one ensure that the energy in the school focuses on the success of the students?  How do we ensure that the clarity of the school vision is foremost in the thoughts of the staff?
As an administrator or teacher leader, it's often the managerial things in our job that take away our laser focus on student success.  Every principal I know would rather be having deep conversations with teachers about their practice than disciplining a child or fixing a broken computer but, alas, the emergent often trumps the visionary due to necessity.  "The vision is huge, it can wait.  Right now I need to deal with this angry parent."  Sound familiar?
One of the things that I have found keeps me focused is the constant reminder that it is all about the student.  The overt tangible things, while looking like simple window dressing, can be the things that make you look straight to the vision of student success.  Here are a few examples for you to think about:
Have your vision statement on the top of your staff meeting agenda and start EVERY meeting reading it together.  When we say it, it brings our focus to what we developed together as the most important task that we have.
Schedule your classroom visits like a teaching block and hold that time as sacred.  If you are a principal who teaches, and I hope you are, you'd never dream of missing a class you had to teach – hold your time with teacher observation and discussion just as high a priority.
When you develop a Staff Meeting agenda, place the items from the agenda under the goals you've set as a staff.  This reminds staff of the priority areas for the year and what you are doing to address them.  If there is a goal that never has anything under it, probably a goal that needs more attention.  If there are items that don't fit under a school goal, maybe you need to look at whether it's worth the energy you expend on it.
Place your vision statement prominently in your school for all to see.  Parents are our best allies in achieving our vision, wouldn't it resonate with them to see that we are all pulling the same direction in raising the next generation?
Make your newsletters start with the vision and goals and tell parents what you are doing to achieve them as a school.  I've had numerous discussions with my kids over what they are doing at school.  Having a good idea what the school is focusing on could drive some really rich dinner conversation.
None of these ideas are rocket science – far from it.  The are simply little things we can do to ensure that we are focusing on why we exist.  We exist to help support our children in becoming contributing, ethical, well adjusted adults.   That's a noble cause and one worth focusing on.
Keep on learning,
Dave