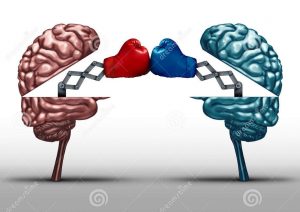 Yesterday I was having a nice Vietnamese supper with my daughter and her boyfriend.  Being an educator, I asked that question that all teachers ask their kids, "So, what are you learning at school lately?"  My daughter, a precocious 17 year old grade 11 student, lit up.  In Social Studies they were participating in a mini United Nations exercise.  She went on and on describing her frustration with the countries who had veto power and how they were standing in the way of real progress within the group.  She was actually quite heated about the whole class.  I beamed with pride at the conviction and passion of my youngest child.  The school system, her Social Studies teacher in this instance, was challenging her thinking and creating dissonance in the way that she thought the world ran.  Her brain was growing.
This blog is not about the United Nations.  It touches on the heart of teaching.  When we ask adults about their school experiences, we often get feedback that they really do not remember details.  That it all blurs in to one giant experience the further removed one gets from it.  But often, adults will recall one teacher who pushed their thinking.  One teacher who made them connect with their learning through some sort of challenge. One teacher who presented a lesson that didn't stop at the bell but flowed out into the hallway after, maybe even  as far as the home kitchen.  That teacher tweaked something in them that made them engage at a very deep level.
Here's the thing about those moments though.  Often, the teacher is in the background for those deep classes.  They may be acting as a devil's advocate, taking a contrary view, they may be simply refereeing a debate between students, or as in the case of my daughter, they may of designed a situation that they knew would get their class engaged.  The teacher has stepped off the stage as the all-important holder of the knowledge and allowed the students to engage with the learning without the filter and bias of the teacher.  The learning is in the hands of the class.  Brilliant!
There's more though.  The learning goes well beyond that well crafted lesson.  These moments where students are forced to challenge their own preconceptions, opening their eyes to other potential realities, starts to create new pathways in the brain.  Students start to realize that what they thought were simple issues, actually are quite complex.  They begin to see the greys in the world, not hang their hat on the thinking that parents, schools and society have given them.  They see the world for what it is, complex and challenging.  What better gift can we give our students than the understanding that the world is complex and that there are loads of different ways to look at issues that surround them  Teachers are helping their students to build flexibility and self reflection into their thinking.  This bodes well for the future!
One of the most important roles for teachers is to create future citizens who think deeply about the world in which they live.  Global citizens who do not see the world as black and white from a middle class Canadian couch but rather can listen and debate complex issues that involve deep understandings that they so not see immediately.  Teachers help create those grey areas in student thinking that, hopefully, will allow kids to become flexible and reflective in the way they look at the world.
So, thank you to all teachers, particularly my daughter's Social Studies teacher, who set up learning in a way that will build pathways to tolerance and understanding in her.  You are shaping the future.