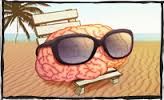 I've heard it a thousand times if I've heard it once, "You teachers are lucky.  You get so much holiday time! "  It's true though, teachers work a maximum of 200 days per year according to the Province of Alberta's School Act.  Admittingly, they burn up a whole lot of other hours in the form of marking, coaching, and planning but it still leaves teachers with the flexibility to have some time to vacation.  That time is often the job perk that gets teachers the envious glares of those in other fields.
Here's the thing though, they need it.  Science proves it.  Firstly, vacation reduces coronary heart disease.  The journal, Psychosomatic Medicine, found that men who go on vacation once a year are 32% less likely to die of heart disease.  Framington Heart Study, found that women who go six or more years between vacations are 8 times more likely to have a heart attack then those who vacation regularly.  Vacationing saves lives! Literally!
Secondly, vacations make you smarter.  That is to say, vacation improve the brain's neuroplasticity.  Adam Galinsky, professor and chair of the management division of Columbia Business School, states, "Foreign experiences increase both cognitive flexibility and depth and integrativeness of thought, the ability to make deep connections between disparate forms." Teaching, being a profession that demands intellectual adaptivity and flexibility, is better off having a  work force that uses it's free time to improve the engine that drives its' success.  Vacations equal better teachers!
Still not done!  Regular vacations improve your sleep.  Sleep improves reaction time and focus!  After a vacation of as few as 2 – 3 days, researchers measured that people average an hour more of good quality sleep and reaction time is 30 – 40% higher than the day before the vacation.  That's pretty impressive improvement simply by taking a few days to get away.  Talking to any teacher, you know the importance of sleep on the  operation of the classroom.  Teacher reaction time is pivotal to managing a busy class of students.
Finally, vacations reduce stress.  It is a natural break from the constant pressure of the classroom and is much needed.  Stress is linked to a host of illnesses from heart disease, obesity and diabetes to depression and anxiety.  A vacation takes a person away from the stressful day-to-day work of the classroom and allows time for the body and brain to reset.  That's why a teacher at the beginning of the school year looks significantly different than that same teacher ten months later.  Stress ages a person.
So teachers, as you gear down for your summer holidays, make sure you plan a nice little trip somewhere.  Get away, sleep better, dance a little and just relax.  It will have a huge impact on your health and on your ability to impact the students in your care!  In September, when those new little faces come to your classroom door, you'll be healthier, smarter, and more ready to take on the challenges presented in those busy environments.
Have a great summer!