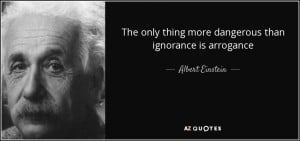 Arrogance – we don't like it in our neighbors, we don't like it in our doctors and we especially don't like it in our employers.  Arrogance is blinding – it leads to an inability, or at least a negative predisposition, to listen openly to another's opinion and give it value.  It is a dangerous attribute as we move forward in our attempt to prepare our next generation for the future.
The reason that I write of it today is that in my role as a central office leader, I think I can be prone to a bit of institutional arrogance.  Those of you who know me hopefully would understand that I am not arrogant about knowing how a particular classroom should run or that I have all the answers to what great teaching looks like.  Where I think my arrogance blinds me is in thinking that the initiatives that are supported and encouraged by the district are happening in all of our classrooms and in all of our schools.  Not only is that arrogant, it is very naive.
Let me give you an example.  I believe that the Daily 5 approach to organizing an elementary language arts classroom is an ideal structure.  It promotes sustained focus, individual choice and student accountability when done correctly.  It also allows teachers to target particular students and instruct at the level where the child is.  We spent a lot of time in-servicing teachers on this model and supported them with what we thought was the right shoulder to shoulder support in the form of Instructional Coaches.  I knew we were going the right direction.
Imagine my surprise to discover that some classroom teachers didn't embrace the new structure completely. . . I was shocked.  Why?  I was blinded by the institutional arrogance that can plague central office leaders, I wasn't in the field enough and testing the waters.  Guilty as charged.  In hindsight I recognize the mistake made; the gap between current practice and expected practice was too large for some teachers to make the change.  We erred in execution.  Now we are working to remedy the problem but this is not where I want to focus in this particular piece.
My take away from this example is that as a educational leader we need to ensure that we are not blinded by the arrogance of so called good decisions.  We need to listen carefully to the teachers responsible for their classrooms and personalize the support we give them.  Good teachers know what they need if we ask the right questions.  Rather than leading from the front like a marching band's field commander we need to be with the teachers in their work, paying closer attention to where they are, more like a shepherd than a conductor.
The same mistake can be made by teachers.  They teach what they think is an outstanding set of lessons.  Kids are fully engaged in the work, busy and focused.  When the final assessment of the learning is done however, the success rate is low.  Why?  They didn't necessarily know where each learner was starting and they were in front of the class too much and not down on the ground working with the learning.  The gap between current knowledge and expected learnings was too big.
So, avoid arrogance at all cost.  Teachers, get close to where the learning occurs and listen carefully to the musing of your students as they work.  Leaders, get close to where the learning occurs and listen carefully to the musing of your teachers.  At the end of the day – listen first, respond second.
Food for thought.
Keep on learning.
Dave