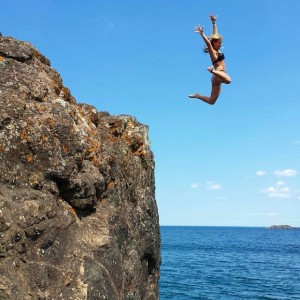 I was visiting my daughter in Kamloops a couple of weeks ago and she hit me with an absolutely fantastic idea.  She said she was going to have a summer of no fear . . . that's right a summer of no fear.  What does that mean exactly?  She said that she was going to make a point of doing something that was out of her comfort zone every single day in the summer.  It might be as simple as making a phone call to someone who she typically wouldn't call just to see how they were doing or as frightening as bungee jumping.  Every day she would push on her comfort zone a little and try to be a more daring person.  It floored me.  What a great idea.  It's deliberate, it stretches her and, she'll get a chance to do some pretty cool stuff.
This got me to thinking.  I am always harping on my kids to try new things, meet new people, join new clubs, step out of their comfort zone.  Heck, how many older people say, "Boy, I wish I would of had less fun and taken less chances when I was younger."  None that I know of.  I turned my attention internally.  What do I do to push my comfort zone and, could I push more?  Could I be as brave as my daughter and practice what I had been preaching all these years?  Could I stretch my 50 something year old mind, entrenched in its' ways for so many years, and take a risk every single day?  I think I'll give it a go.
Now let's turn this to the classroom, shall we?  What are we doing to step out side of the comfortable groove we have in the classroom?  What if we were to try one little point of practice that was outside of what we do everyday? I'm not referring to something huge like switching your entire program to Project Based Learning or Flipping your class.  What if you were to just use one little cooperative structure you'd never used?  What if you were to try a new way to gather some formative data to drive the next lesson?  What if you simply just greeted the kids at the door in a new way?
Don't get this wrong, I'm not saying change things willy nilly, without thought for the strength of your program.  Try something you know will impact kids – something that just may only take a few minutes.  You never know, stepping out of your comfort zone may refresh you, just like my daughter's call to a friend she hadn't spoken to in months.
Keep on learning!
Dave