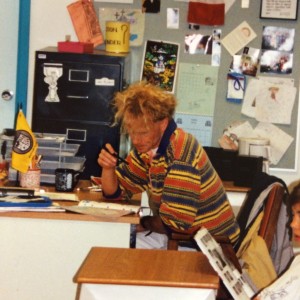 I'm 50.  I know you're all shocked and in my mind you are all saying, "What??? He's so youthful!, that can't be right?!?!"  but in reality you're likely thinking, "Only 50?  Would have put him a little older than that."  Either way, it is what it is, I am 50 years old.  In these 50 years on this earth I've spent 45 years in the school setting, 12 as a student in the public Catholic school system, I didn't do Kindergarten (puzzle fits), 4 in my undergraduate studies in the faculty of education, 25 years in schools in a variety of grades and roles while also completing my Master's degree  and 5 in central office.  That's a long gig in the educational system.
In all those years, I've learned a great deal, and my biggest learning . . . I don't know much.  Now that might sound trite and some what unrealistic but there is a lot of truth in it.  When I first began as a teacher, I was 21 years old.  Fresh from hanging around Europe for a few months and University prior to that, I was overwhelmed with the amount that I had to learn.  I was a young lad in the cacophony of a teacher's life . . . parents, kids, planning, evaluation, coaching, I was swamped.  Trying hard to keep my nose, never mind my head, above water, I learned to swim and keep afloat in the chaos that is a school teachers' life.  Every passing year got a little more manageable and by year 4 I felt I was "king of the world".  I had my curriculum down pat, I was a master at building relationships with kids and I was getting better at dealing with the parents.  Had there ever been a better teacher?  If you asked me then I likely would have humbly denied the claim but in my head, I knew I was darn good.
The next 10 years mirrored this experience in many respects.  I switched grades and assignments a great deal, I entered administration and I was still solid in the fact that I knew a great deal about how schools should operate . . . then I entered my Master's program.    It was here that I was slammed in the face with the fact that I really  knew very little about what schools COULD be.  From there I began to really question my practice and frankly practice in general.  I had always done what I did and my kids did well in my assessment and the Provincial Achievement exams but now I was questioning whether that had impact on their actual lives going forward.  I began to question each lesson more critically and, guess what, I leaned more and I became a better teacher.  I was a better teacher who had a great sense that I didn't know enough and I have kept learning since then.
Now, in my role in HR and Learning, I have the privilege of meeting many new passionate teachers and I see a lot of the confidence that I had as a younger man.  I see the amazing ability they have to connect to kids and the seemingly endless energy and I am in awe.  I also know that we are doing a much better job of having them look at their own practice and adapt to always be better.  Through PLCs, the use of Instructional Coaches and the constant process of self reflection, they will bring the field further to make the best schools possible for the students.  I know our schools are in good hands going forward.
And me?  I'll just keep on knowing very little and striving to know more.
Keep on learning.
Dave